When you contact me for a window, the design process begins with my visiting your site, looking at the space and the immediate environment (inside and outside), talking with you, and sketching. I then draw designs that complement the surrounding space (typically, 2-3 design proposals).

This particular piece was created for the office of a massage therapist.
The transition from sketch to final piece can vary somewhat as I work with the subtleties of the glass.

Usually, I do not care for representational pieces or for working with opaque glass;

I prefer free flowing forms that the eye can follow. Forms that transmit and transmute the environment, bringing new layers of visual experience to the viewer.
Textures: clear textures pop forward, or fall back, creating dimension in the piece; different glass does different things.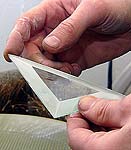 One of my specialties is working with beveled glass. I will hand bevel clear glass, then bond a second, colored, beveled piece on top.
Each piece I create evolves from the interplay of the setting environment, the glass textures and colors, the shapes that I use and the visual flow over the piece. Like any work of art, the viewer should continually find new experiences in the piece, keeping the piece fresh and the viewer engaged.